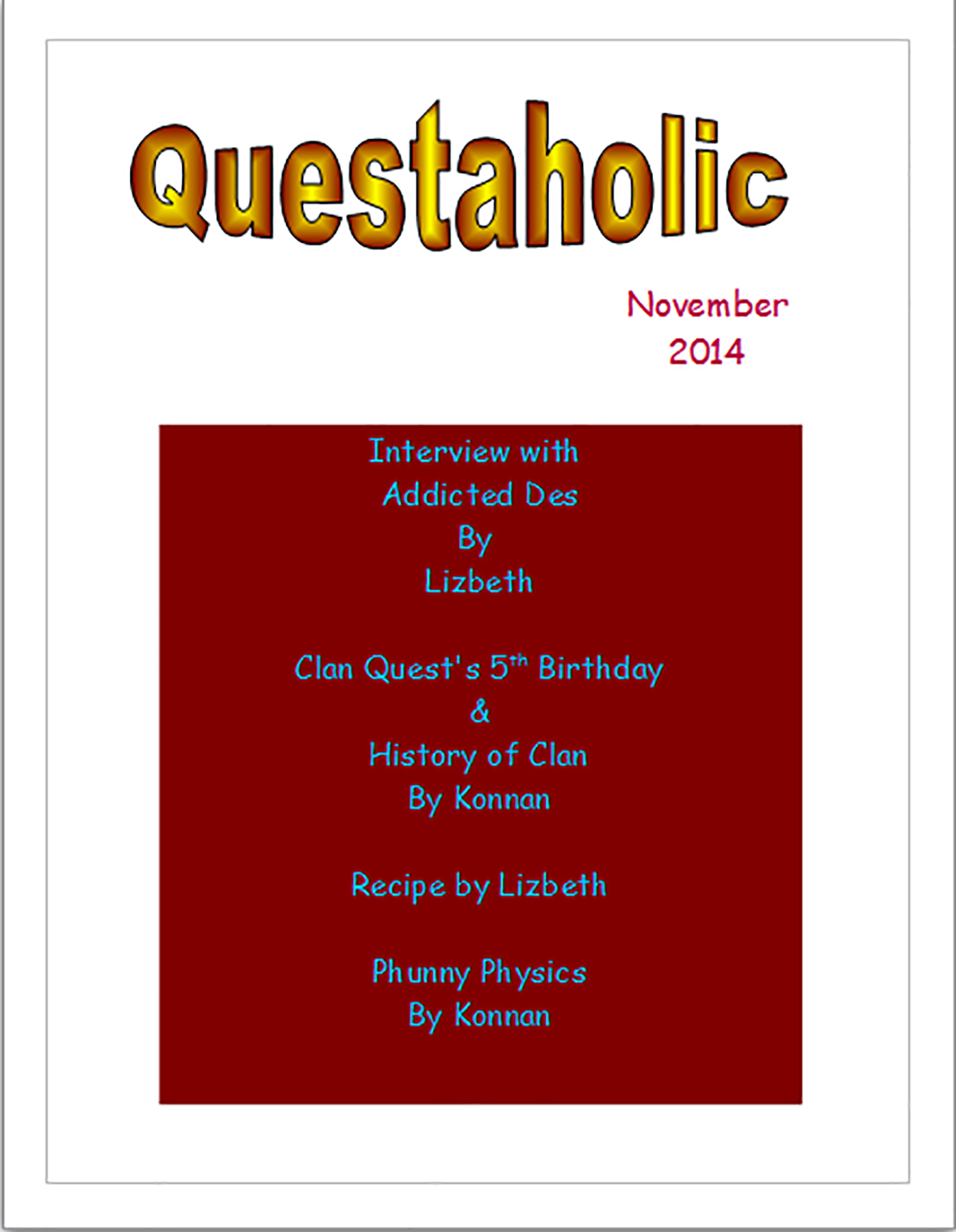 ~!~ ***** ~!~
Interview with

~ by LizBeth
Iskh:
Hello, fellow Brit! How's the weather?
Very bad at the moment. It's raining a lot and very windy.
Do you prefer hard cheese or soft cheese?
Lol! I would say in the middle really.
Do you prefer cow, goat, or sheep cheese?
The only answer i can give is cow's milk cheese...lol!
What's' your favourite cheese?
Red Leicester is the best!
What is the country of origin of your favourite cheese?
Red Leicester, also known simply as Leicester or Leicestershire Cheese, is an English cheese made in a similar manner to Cheddar cheese, although it is crumblier. Since the 18th century, it has been coloured orange by adding annatto extract during manufacture. It is a cow's milk cheese, originally from Leicestershire, England. I hope that answers your question.
Where you for or against the Scottish independence?
Well, for this question I was 50/50. England basically pays for everything the Scottish does.
Do you have any pets?
I have 1 cat. I used to have 2, but one died when my brother set house on fire. The cat that died was the one i was really close with at the time.
Do you follow sport? If so which one?
Football
Miss Alaska:
What are you most addicted to?
Lol! I knew you'd ask that question. Well, I am of course, addicted to RuneScape. I know a lot of people are going to disagree with me for saying this, but RuneXcape is a big part of my life. I don't know what I would do without it. RuneScape was there when I had a lot of bad stuff happening to me in life. RuneScape also taught me how to spell.
What did you want to be when you were growing up?
I always wanted to be a game designer. I am a gamer in real life. You name any console that's out so far, I bet I had it or still have it.
How did you get started on RuneScape?
I was 12 when i first made my RuneScape account. I was bored and I didn't like RuneScape back then. I was a very low level for like 5 or 6 years. Then I just got into it and trained like crazy for all the quests requirements. The Quest Point Cape was my dream cape to own back when i was 12. A friend of mine also paid for my first 2 months of membership. Because of her i just couldn't go back to F2p. I had to be a member all the time. I went for my quest cape and got it like 2 years later.
Where would you like to travel to in the world if you got the chance?
Funny you should ask that question because Australia is the number 1 place I would love to see. i have so many close friends and old schoolmates there that I'd love to meet and see.
What fictional place (from movies, books, etc.) would you love to visit and why?
I would like to go Narnia...lol! Yeah, I used to be a big fan of the films, but I'd like to at least see where it was actually filmed.
Skiller or killer?
I can't pvp or pvm that well and I don't really like to skill very much...lol! So if I would have to pick skiller becuase thats what am best at over all.
MsKonnan10:
I've noticed your poetic writing talents when you bumped the RSOF

How did you manage to keep that hidden so long?
Lol! Well, that was an old poem me and a group of friends wrote at school together. We were like 10 years old at the time and I thought I lost it all because the fire. Luckily, it was at a friends house for years until I found it. I've written a lot of poems, stories, etc. back then. I'll post them if I find them. I know a lot of them were lost because they were stored on a laptop that I can no longer access. Also, a lot of them were put on a few websites that my friends have accounts on.
Would you have time to write something for the magazine?
We need interviewers, too, hint, hint. If i find time i would try my best.
What do you like best about the RS game?
Has to be the quests and the over all best clan in RuneScape - Clan Quest!
What attracted you to this clan, and what keeps you with us?
Wow! This one is a hard one to answer, but here goes, I have always loved questing so I think that is what brought me to the clan. What's making me stay is the fact that everyone is awesome including Liz(Beth), Cireon, Msk, Garden and Sira.
Is there anything special you would like to tell us about yourself?
Well, most of you know I am deaf and at the start of this year I had an operation to get a screw drilled into my skull so that I could have a Baha (Bone anchored hearing aid). With the help of this device I can hear a lot better than i used to.
Got a picture to show us? Please?


I see what I can pull from my Facebook pics since I don't have any on this laptop. But, yeah, I will.
Sinistral:
What would your ideal burrito consist of?
Meat. I don't really like most stuff.
Have you ever made a pizza from scratch?
OMG! Homemade pizza is just the best! Yeah, I mostly have homemade when I can be bothered to cook...lol!
Are you a fan of Jazz music?
I like most types of music, so yeah.
What's your favorite brand of hot sauce?
That would have to be Infinity chili.
Do you enjoy long walks on the beach?
Yeah, I used to go to the beach all the time when I was a lot younger.
With whom do you most identify with, within the RuneScape Pantheon?
I really don't have an answer for that question, but when I do I'll tell you in gam...lol!
Coffee or tea?
I may be British but I hate tea, but coffee is nice.
Bagels or donuts?
Bagels are the best!
Kebabs or tortas?
Tortas are better than kebabs any day!
Favorite Dragon Ball (all series) character?
I would say Goku and Vegeta.
Eggrolls or springrolls (including their seasonal variants)?
Eggrolls that's all I can say.
LizBeth:
Hey, Des, how's it going?
I am okay for no...lol!
So, you're a gamer, what other games do you play other than RuneScape?
For pc I play RuneScape. Fallensword, but console-wise I play Resident Evil, Assassin's Creed, racing games, shooting games. I play a lot!
Is RS still your favorite? If it is, what makes it more appealing than the other games? If it's not, do you have a favorite and why?
My all time best game is Resident Evil and Assassin's Creed. At this point in time because Resident Evil is a horror game that I just really like.
What is your goal in life?
My goal in life is to become the very best game designer in the world, but I know that's not really going to happen. And maybe, become a Jmod.
What makes you angry?
Lol! Okay, what makes me angry...hm...well, to start with if I am co-oping on a game like Resident Evil I get angry at some players because they leech off me. Sometimes when the game gets really hard, you need both players in full swing.
What makes you happy?
Just generally talking to clan mates while playing.
Do you play any musical instrument?
I used to play the guitar, but I don't think I can anymore. It's been so long I add a pic of me and my family, but I was more interested in my guitar at the time.
What's your favorite color?
Blue, black, red and white
How long have you been playing RuneScape?
I've been playing RuneScape for 8 years no...so, so long!
What do you mostly do while playing the game?
Talking, hanging out with friends, afking, skillin...lol!
If you're not playing RS, how do you spend your time in real life?
I go for walks, playing other games, meet up with my friends, etc.
What's the one happiest moments of your life?
Lol! Okay, I went on a holiday one time and i met this girl. I was 13 and I fell in love with her. But anyways, I didn't know at the time that she played RuneScape until i got home and found out about it. I was friends with her for years on RuneScape. I ended up asking her to go out with me on her birthday without even knowing that it was her birthday!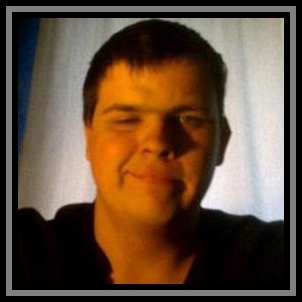 Thank you for volunteering to do this interview and giving us a glimpse of who Addicted Des really is. Good luck with your future endeavors. According to Disney: If you can dream it, you can achieve it! Also, I hope that cochlear implant will do wonders for you. Cheers!
~!~ ***** ~!~
Article by LizBeth
REMINDER OF CLAN QUEST BIRTHDAY MEETING
Time: Saturday Nov. 8th at 21:00 UTC (Game time)
Place: Clan Quest Keep Threatre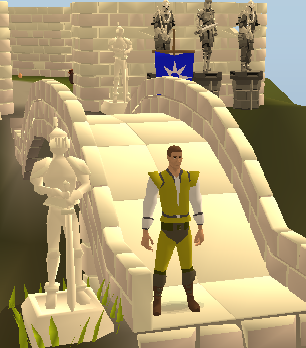 The birthday boy, 'Noob Clan Quest' himself,

looking like an elusive green ninja haunting the White Knights Castle.  


For his 5th birthday, he would like a set of Bronze Armor.



~!~ Clan Quest's 5th Birthday ~!~
A brief history of Our Clan
by Konnan
****************************************

The Questing Clan of RuneScape, also known as Clan Quest was formed November 4, 2009, and received Jagex recognition November 9, 2009. Our founding members are Draziw, Kappathegray, Sethron666, and Clan Quest, who's friends chat we use.

In 2009 there was no Clan Camp or Citadels, but many Clans existed, and could talk in their leader's friends chat. These clans focused mostly on groups of friends doing skilling together, or fighting monsters, and development of 'pures' to challenge the wildy and fight other players.
Questing was not as much of a goal as was getting a 99 cape, so Our Clan was formed with a Special Purpose in mind.
In 2010 The newly founded Clan developed a written Constitution. Some of the earliest members to join were Anamona, Hope, Artson, Elven Badass, Jeroenvt, 82nd Abn Dad, ChaDMcBaDD, Kitty, Sinistral, Hemsky, Bigg Doggg, Panda, Konnan10, Skills2Quest, Lady Klaw, Tohtli, Nene Mom, Chapu, Earth, Rerecros, VodkaB, Auridan, Sk8r_dan_man, Bobacupcake, Sir Ragnhild - do you remember them?

The first offsite was called 'darkbb'. In March 2010 Tohtli started this offsite and has managed it for us ever since.
In 2011 the Clan Charter replaced the original Constitution. A link to the Charter as posted on the RSOF is -
http://services.runescape.com/m=forum/a=13/sl=0/forums.ws?135,136,355,65451338

In 2011 CQ came into it's own, receiving recognition by Jagex in March 2011 during Official Clan Month when Clan Camp was started. Our Clan was again featured in September 2011: A link to to the RS Clans Wiki can be found at - http://runescapeclans.wikia.com/wiki/Clan:The_Questing_Clan_of_Runescape

In AUGUST 2011 Citadels started, and there was a race to build our Citadel to Tier 7. A Lottery was started where 300 weeekly screenies were posted by clan members to show they had 'capped' to help build our citadel. Prizes totaling 27M were donated by wealthier members.
In 2012 the Questaholic Magazine began publishing in January. The magazine also ran a contest and vote to name the Citadel Dragon. The name of 'Nogard' was chosen out of 73 names submitted. The Magazine also features an interview each month with a clan member.

In APRIL 2012 the Citadel finally reached Tier 7. We are still capping to maintain it, and it has become home to the clan for meetings and events.
In 2013 the Clan really started a drive to grow and attract more members.
Recruitment Razzers, now headed by LizBeth, began posting on the RSOF in earnest. Over the years the clan has filled eight forums of 200 posts each, for recruit applications.
A link to the T8 current recruitment forum is -
http://services.runescape.com/m=forum/a=13/c=-9wCh3GpJsQ/forums.ws?93,94,751,65452150,goto,1
In2014, at present time
~Clan Event hosting has changed from mini-games and diversions to include more bossing events hosted by the
Combat Marshalls.
~We now have many members who hold 99 experience in all stats, and some who have become completionists.
~The High and Low Councils include new members.
~Our ranking system has changed to fit in with the clan system ranks.
~There are currently 207 quests available to maintain a Quest Point Cape.
~Total membership has reached over 350 people.
What does the future hold?
The Clan Leaders are working on a new offsite. It will become a home for members who play RuneScape and those who play other games.
We have increased our circle of friends in game, and some of these have become real life friends. In the past five years many of us who started playing in out teens are now in college. The clan door swings both ways, as members leave for real life commitments and return when they have time for gaming.
Yes, the clan isn't the same as before, it is better; as we strive to grow, and keep it a happy, friendly family.
~!~ ***** ~!~
Article by MsKonnan
~!~ Recipe ~!~
The Chewy
Recipe courtesy of Alton Brown
SHOW:Good Eats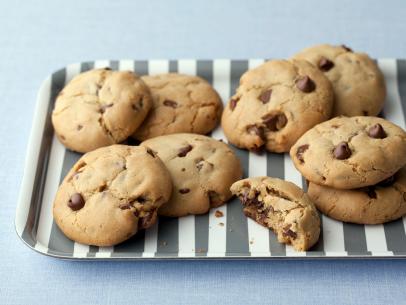 The Chewy Video
Ingredients
8 ounces unsalted butter
12 ounces bread flour
1 teaspoon kosher salt
1 teaspoon baking soda
2 ounces granulated sugar
8 ounces light brown sugar
1 large egg
1 large egg yolk
1 ounce whole milk
1 1/2 teaspoons vanilla extract
12 ounces semisweet chocolate chips
Directions
Melt the butter in a 2-quart saucepan over low heat. Set aside to cool slightly.

Sift together the flour, salt and baking soda onto a paper plate. Pour the butter into your stand mixer's work bowl. Add the sugar and brown sugar and beat with the paddle attachment on medium speed for 2 minutes.

Meanwhile, whisk together the whole egg, the egg yolk, milk and vanilla extract in a measuring cup. Reduce the mixer speed and slowly add the egg mixture. Mix until thoroughly combined, about 30 seconds.

Using the paper plate as a slide, gradually integrate the dry ingredients, stopping a couple of times to scrape down the sides of the bowl. Once the flour is worked in, drop the speed to "stir" and add the chocolate chips. Chill the dough for 1 hour.

Preheat the oven to 375 degrees F and place racks in the top third and bottom third of the oven.

Scoop the dough into 1 1/2-ounce portions onto parchment-lined half sheet pans, 6 cookies per sheet. Bake 2 sheets at a time for 15 minutes, rotating the pans halfway through. Remove from the oven, slide the parchment with the cookies onto a cooling rack and wait at least 5 minutes before devouring.

The darker the sugar you use, the chewier your cookies will be.
Bon Appetit!
~!~ ***** ~!~
Article by MsKonnan
~!~ LAWS THEY DON'T TEACH IN PHYSICS ~!~
by Konnan
***********************************
(especially of interest to all you physics engineering students)


1.Law of Mechanical Repair - After your hands become coated with grease, your nose will begin to itch and you'll have to pee.

2.Law of Gravity - Any tool, nut, bolt, screw, when dropped, will roll to the least accessible place in the universe.

3.Law of Probability -The probability of being watched is directly proportional to the stupidity of your act.

4.Law of Random Numbers - If you dial a wrong number, you never get a busy signal; someone always answers.

5.Variation Law - If you change lines (or traffic lanes), the one you were in will always move faster than the one you are in now.

6.Law of the Bath - When the body is fully immersed in water, the telephone will ring.

7.Law of Close Encounters - The probability of meeting someone you know INCREASES dramatically when you are with someone you don't want to be seen with.

8.Law of the Result -When you try to prove to someone that a machine won't work, IT WILL!!!

9.Law of Biomechanics - The severity of the itch is inversely proportional to the reach.

10.Law of the Theater & Hockey Arena - At any event, the people whose seats are furthest from the aisle, always arrive last. They are the ones who will leave their seats several times to go for food, beer, or the toilet and who leave early before the end of the performance or the game is over. The folks in the aisle seats come early, never move once, have long gangly legs or big bellies and stay to the bitter end of the performance. The aisle people also are very surly folk.

11.The Coffee Law -As soon as you sit down to a cup of hot coffee, your boss will ask you to do something which will last until the coffee is cold.

12.Murphy's Law of Lockers - If there are only 2 people in a locker room, they will have adjacent lockers.

13.Law of Physical Surfaces -The chances of an open-faced jelly sandwich landing face down on a floor are directly correlated to the newness and cost of the carpet or rug.

14.Law of Logical Argument - Anything is possible IF you don't know what you are talking about.

15. Law of Physical Appearance - If the clothes fit, they're ugly.

16.Law of Public Speaking -- A CLOSED MOUTH GATHERS NO FEET!

17.Law of Commercial Marketing Strategy - As soon as you find a product that you really like, they will stop making it OR the store will stop selling it!

18.Doctors' Law - If you don't feel well, make an appointment to go to the doctor, by the time you get there, you'll feel better. But don't make an appointment and you'll stay sick.
I especially like #14.
If you don't follow these laws of physics, your belly button will unscrew.
Really... It's true. I read it on the Internet!
~!~ ***** ~!~
Article by MsKonnan