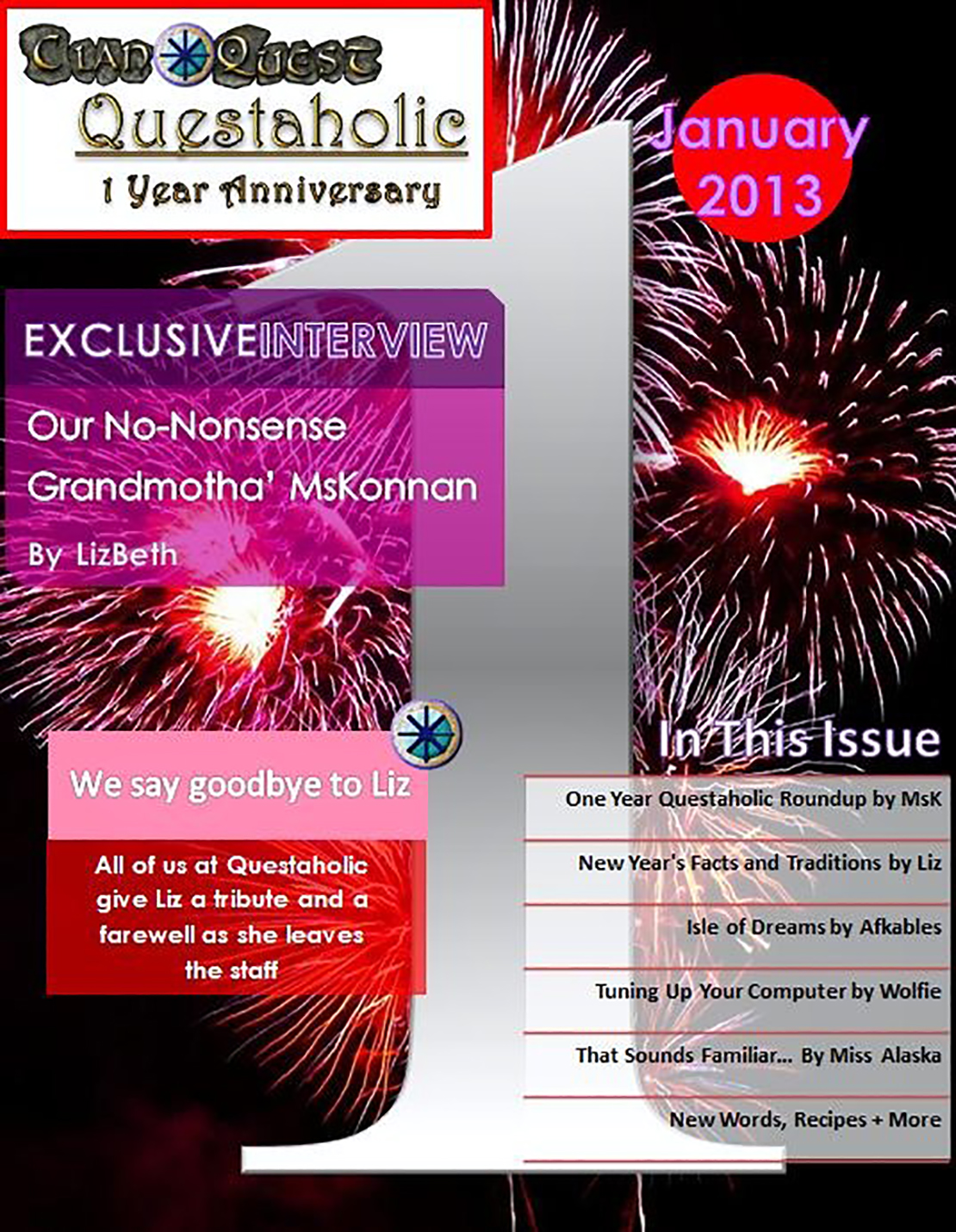 ~!~ ***** ~!~
Interview with the No-nonsense Grandmotha'

Clan Quest's Amazing Lady High Councilor
~ by LizBeth ~
MsKonnan10, Clan Quest's favorite Grandmotha'. She is straightforward, funny, keeps everybody in line, firm, yet kind. She has the sweetest disposition and projects such positive presence whenever she is in clan chat or posting on forums. She is the type who you can confide with and makes you feel better whenever you feel troubled.

What makes our Grandmotha' such an amazing, awesome noob? There is only one way to find out...
LizBeth:
Hi Msk, how was the trip from Canada to Arizona? Welcome back, Ms. Snowbird.

It is a 5 day trip traveling with a 5th Wheel RV. The first day two hours are on a coastal ferry which is very expensive for the 40 miles it takes you. Our cat travels with us, sitting on the raised console in the front seat of the truck. We stop every night, and are glad to make our final stop in an RV park for 5 months, October to March.
Oh my, that is quite a trip. I am glad you've reached your destination safe and sound. Now, when did you join Clan Quest and how did you find out about this magnificent clan?
I joined CQ January 15, 2010 and found the clan by looking for questing clans on the RS forums after four years of playing solo. I posted in the 'wrong forum" and Bigg Doggg threatened me with a lashing with a "wet noodle" for not following instructions!
That Bigg Doggg is so mean for threatening you with a "wet noodle". What a sweet coincidence that you had posted in the "wrong forum", but I don't believe in coincidences. You were actually meant to be in this clan, you know.

So who started calling you "Grandmotha"? It is really quite fitting, though, being our grandmother.

I used to portray the image of the "Loving Clan Granny", because I did not want to disillusion kids about being an adult. (Some of them said "Ewww" when they found out adults actually played this game!) After getting most of the quests done, Draziw and Rerecros said I needed a "tougher image" if I was going to become a councilor, and dubbed me "The Grandmotha".
Clan Quest is always ever changing, what was it like when you first joined in terms of how it was managed, the clan mates and the officers? Would you say it has improved a lot? Is it really perfect the way it is? If not, what kind of changes would you like to see?
When I joined, the Clan Constitution was posted on the RS forums. It was very well written, and many of us were impressed by the leadership that had drafted it. Some of the first clan mates I recall were NeneMom, Kitty, Skills2Quest, VodkaB, 82ndAirborn Dad, and of course Bigg Doggg, Draz and Cros. All of them were very active, and I miss the camaraderie we shared. But life moves on, and rl changes for young folks much faster than it does for us older folks.
Is Clan Quest perfect the way it is?
I'm convinced it is the best clan out there. It has proven it can survive with new leaders taking their places, and new members learning our ways. There is room for improvement in better communications, but the opportunity is presented if you really use this offsite. It is up to each member to show his interest, and to take a little time to find out what is going on.
So you see, clannies, it is highly recommended that you make use of this offsite for communication, not just the clan chat. Spread the word if you must.

How does it feel to be a High Councilor? Is it more work than being a Low Councilor?
I did not actively seek leadership by getting a H/C promotion. I was reluctant to accept it because I felt many clanmates think H/C'ers are aloft, or otherwise unreachable. In reality, it comes down to the amount of time these people have in real life to devote to the game. After talking with our wise leader, I realized that people with the most time were needed to carry out the time consuming details of making the changes to membership ranks and permissions that keep us all moving on. I am still learning how to do those jobs, and learning to let L/C'ers do theirs.
The following questions might be considered as "personal", but in my opinion, would give us a glimpse of that side of you in real life that is quite awesome to know. You had mentioned that you were a biker back in the day, at what age did you start riding a motorcycle and at what age did you stop?
Started riding trail bikes in my 20's on the logging roads around the places our family used for camping. I've owned 14 motorcycles, the last one being a 1200cc Kawasaki. I mostly rode my own bike, because we had two sons to double in the early days. Also, if I sat in the back seat (like a useless ornament), I tended to fall asleep, and bump helmets with the driver...lol.
Fourteen motorcycles...WOW!

That last statement of yours is so funny.

How far had you traveled with your bike?
I guess my "claim to fame" was to ride my own 750cc Virago across Canada from Vancouver Island to Newfoundland, and back through the Northern States. It was an 8 week trip, and very memorable. (And I am proud to say I did not "drop my bike" once during the whole trip)
Do you have a tattoo?

No, they look ugly when you have to have them removed!
Do you still have your bike or have you sold or given it away? Do you miss riding it?
Sold my bike when I was 56, after taking up golfing. Yes, I did miss the life style for awhile, but I met my present husband through the bike club, so there were rewards.

Any sport that you like? Any favorite team?
Personal Sports were Track & Field, Horseback Riding, Scuba Diving. Now, Fly Fishing, Outdoor Shuffleboard. Of the Pro Sports, I like football, and cheer for the B.C. Lions.
What type of music do you listen to?
I like Rock & Roll, and Jazz, and some Classical stuff. I'm not consumed by music, as I disliked having to take piano lessons as a kid.
Who is (are) your favorite recording artist(s)? What is (are) your all time favorite song(s)?
I liked Herb Alpert on trumpet, Roger Whittaker's songs. Abba, The Beatles, Elvis!!! - lol
Some songs I really like are: "You belong to me", "They call the Wind Myriah", "Danny Boy", and my childhood lullaby was my dad singing "Old Man River".
What about movies and actors/actresses, any favorite?
"South Pacific" (saw it 3 times), "On Golden Pond", "Out of Africa" with Meryl Streep.
I like to read Science Fiction (Robert Heinlein, "Stranger in a Strange Land"), and Historical Romances/Fiction, and like author "Catherine Cookson".
Regarding RuneScape, what do you think of EoC? Do you like it?
Yes, I like EoC. It is easier to learn than I thought it would be. I'm not good at combat, but the changes make it far more interesting and challenging.
Do you foresee yourself playing RuneScape until it becomes, if ever, a defunct game?
Probably, I appreciate the animations. It taxes my memory and keeps it sharp. I doubt I will ever go back to playing card games on line with the old ladies, or being addicted to "Tetris".
Have you played continuously since you've started? Was there a point wherein you had stopped playing for awhile?
Yes, I've played most every day for a few hours late at night. Maybe skipped a week at a time once in a while.
Wise Ork:
How did you come up with the idea to create the Questaholic?
It was Daviddts' idea. It just needed someone to "pick up on it" after he left the clan.
What is it about the Questaholic that keeps you spending your free time on it?

I've always felt I could express myself better with the written word, than the spoken ones. I enjoyed writing about Nogard, and using the forums for a '"Name the dragon poll". It was fun getting our Citadel to tier7, and taking part in the competitions and prizes that helped to promote that goal.
How do you see the use of the Clan Quest Offsite Forums evolve or devolve in the future?
I would hope to see the use of our offsite forums evolve into a place for better clanmate communications; so that we are able to interact with each other better during in-game events, and have more fun in-game for all clannies.
What do you think of the Clan Quest Stories? And more specifically, about the ending?
Everyone has his own style of writing. I enjoy the use of fantasy combined with some reality and in-game goals. I tend to like "happy endings".

Meru:
Do you have any great grandkids?
Yes, a three year old great granddaughter.
How did you hear about runescape? Did you like it when you first started playing?
I heard about the game from someone with whom I played a 'space combat' online game. We are still friends on facebook. The space game was only a typed method of playing...RS was so much better with it's avatars and animations.
What's your favorite kind of food? Colour? Shape?
FoodP=Pizza or Chinese. Colour=Magenta and Green. Shape=circles + odd angles, rather than squares.
Miss Alaska:
What were you like as a teenager? Do you have any life tips for us younger folk?
I moved a lot so had to make friends in new schools. I was quieter than most kids. I had no brothers or sisters.
Tips? Just be the best you can at school, at home...make your own decisions, and believe in your ability to change yourself into what you want to become. Live so that you can feel proud of yourself and your deeds. Avoid feeling depressed, get out and do something to make that go away when it happens! Don't expect others to make you happy...your feelings are your own choice. Forgive, and let the hurting time "Pass through you". - As I like to say "It will all come out in the wash".

Boricua:
How's the interview been so far?
I feel like I'm doing a lot of talking about myself. I like to listen to others, too.
What talents and special abilities do you have?
Nothing special, I think I'm pretty average talent wise, (I know I sing off key)


I like to do artistic things, oil painting, quilting, ceramics, anything with my hands. My crafting interest change every few months, as I learn new things. I enjoy gardening and cooking, those are constants.
What's your favorite clan memory?
That's a hard one. There are so many good times to remember, Getting the Quest Cape, finally beating one of the hard bosses. Memories of personal interactions with certain clanmates...Trolling just for fun. Catching hell for being too dramatic. Understanding the real life glimpses of some of the friends we play with.
What do you dislike about CQ & what do you think counteracts that?
Sometimes the silly immaturity in cc gets to me, but I can shut it off, or just quit reading it. I don't have to pass judgement...I just let people have their fun, unless they are hurting others. I tend to warn once, and I don't like long drawn out explanations when people know they have mis-behaved in cc. The serious side of our group responsibilities are counteracted by the knowledge that it is all voluntary...we only have to do what we are willing to do.
How much do ya love CQ? <3
It's the Best Clan out there...I feel so lucky to have found all you folks.
Afkables:
Do you prefer being a Clan Granny or a Mafia Grandmotha?
Ha, Ha, I am both. But probably "The Grandmotha" is more dominant now.
Also, as a Mafia Grandmotha, what runescape items do you specialize in smuggling, and how much do you skim off the top of GE prices for yourself?
What! Smuggle? I am totally honest!

Is Burgen Burgsen in league with you?
Who? Could he possibly be in league with a Granny?

My "Mafia connections" are just a feeling of identifying with "Connie Corleone, as a Consigliere" in the Godfather movies. I like the role of picking a strong leader, and supporting him.


It also helps when you can claim "Conan the Barbarian" as your "Big Brother"

Thank you Liz, for doing this interview with me. Cheers to all the Clan Mates.
Likewise, it is quite a pleasure, and thank you, too, for accepting to be interviewed. You are such an amazing and awesome Lady/Grandmotha' in real life and in game. May I honestly say that knowing you is the best part of being a member of Clan Quest.

Any words of wisdom for us noobs?
-Don't take yourself too seriously, quit trying to be perfect.
-Remember that life changes constantly, and the biggest change is realized when you leave your childhood 'family' and create a new 'family' of your own. These are the teen years, and early adulthood is where your ideas and choices will shape your future lifetime.
-Golden Rule: "Never hurt another person, unnecessarily"!
The RuneScape MsK.
~!~ ***** ~!~
Article by LizBeth
~!~ COMMEMORATING THE FIRST ANNIVERSARY OF THE QUESTAHOLIC ~!~
January 2012-2013
by Konnan
This month of January begins our second year of the Questaholic Magazine.
The magazine idea was started by Daviddts back in October 2011. When he left the clan the idea lay dormant for 2 1/2 months, then thanks to the efforts of Lizbeth and Karen Angel, it took off with it's first issue in January 2012. Ytse wrote one of the first articles about "Max" the npc. Liz wrote about food and recipes, I started a clan dragon series, Ana posted a recipe, and Karen did the first interview with Draz.
Then someone moved our January efforts up to being a "Global Announcement". Bori became our "editor" and cover designer, we set up deadlines for posting it monthly, all at once; and it just grew from there.
I tried to set up some guidelines with a "how-to" thread, and later a separate place for completed articles.
Everyone posted what they wanted to do, because the ideas just caught on. It has been one of our more successful clan efforts.
With the retirement of our very prolific journalist, Lizbeth, we are now in need of more writers. We could use someone to continue doing "Recipes", "Find the Difference", "Horoscopes", and "Seasonal Pieces".
Please volunteer to help, if you want to do any of these regular articles. New and fresh ideas are alway welcome.
~!~ ***** ~!~
Article by MsKonnan
~!~ ***** ~!~
Tribute to LizBeth
Lizbeth wrote:
Hi Bori, Msk and fellow journalists,
The January issue will be the last time I will be writing for the Questaholic Magazine. My real life has become busier than before that it would be hard for me to keep up with my involvement with the magazine. I hope you would be able to find someone to take my place as an interviewer.
It is always a pleasure for me to work with you all and for being part of this awesome magazine.
Cheers!


Liz

Let's make Lizbeth's leave something special, shall we?

LizBeth
Once upon a day in Clan Quest, some noobs got an idea:
"Let's make our own magazine, for all of the clan to see!"
A cheering erupted and plans were created
"The Questaholic needs staff" was on the OS soon stated
Many writers came and went
And a lot of time on The Questaholic was spent
Many years later it has grown more and more
Thanks to Liz and Beth, who have something great in store
One good and one evil, you gotta admit:
Both were great for all that they did
Helping the Questaholic grow, day by day
Not a single noob had anything bad to say
She edited, did lay-out and wrote like crazy
LizBeth was amazing, that we could easily see
Now she has to leave us, au revoir, doei and good bye
Please don't mind me, I have something in my eye


Forever and always, you'll be missed; that's true
Know that nobody could ever replace the writer called you...
Some stories of the staff working with LizBeth

MsKonnan10: Lizbeth, it is time to recall some of the wonderful things we experienced by working together on the magazine. I was so surprised and delighted to see you and Karen look up the old post Daviddts had started. Of course I just had to join in again, too!

The Magazine took off with it's first issue in January 2012. Ytse, Ana, Karen, Liz and I wrote some of the first articles. Then someone moved our January efforts up to being a "Global Announcement". Bori joined as our "editor" and it just grew from there. Through it all, in the discussions thread, Liz, was a constant encouragement. Her enthusiam for everyone's ideas was contagious. :D Everyone posted what they wanted to do, because the ideas just caught on; and mostly it was kept alive and sparkling because of Liz and her attentive and kind enthusiasm.

I hope you will always find the time to keep in touch with Clanmates. We have all enjoyed your kind, thoughtful, and sometimes naughty postings. We really appreciate the good times you have shared with us. Thank you.


Wolfie: Lizbeth has written many articles and been a member of the staff for the magazine long before I joined, but in the time since I have joined she has done a lot for me personally. Lizbeth was the first one to proof my History of Rs articles before I was even a member of Clan Quest; She helped get me accepted into the clan which actually started the 10 page early acceptance essay myth that would allow members to join the clan bypassing the whole recruitment phase (To this day no one else has tried so I can't say it will work a second time). She also pointed me towards the magazine almost at once and thanks to that is in a way largely responsible for all the content I have written being available to our readers. I myself and I'm sure many others will miss the way she brought the facts to life by adding bits of her own personalities to what she writes. We'll miss you Lizbeth!

Wise Ork: When I first joined the staff of the Questaholic, I immediately got welcomed by MsK and LizBeth. LizBeth made sure the Questaholic was supplied with interviews, new words, recipes and many more. She was always so cheerful, being just but fun at the same time. The Questaholic will feel empty without her cheerfulness, but life goes on as they say, right? We'll miss you, Liz and Beth...

Boricua:Liz, you're an amazing person and the entire clan knows that. I'm sure everyone will miss all those GIFs you put up around the forum and your quirky double personality. Everybody would notice something's missing from the magazine as well without all your amazing articles.

~!~ ***** ~!~
Article by Wise Ork
~!~ ***** ~!~
~!~ Isle of Dreams ~!~
by Afkables
**************
A glistening aquamarine expanse
floats into my vision, a mirage -
but real enough for today.
A promise of a journey to paradise.
My heaven, painted in myriad hues:
golds and greens, burgundies and blues.
I have no antiquated delusion
of another's bland bliss.
No gatekeeper, no cloudy domain,
and no empty angel's kiss.
I am floating in a sea of serenity,
on uncharted currents to an island
of my mind's creation.
In my wake are my poisonous worries and fears,
forever gone - the brilliant blue sky is my antidote.
Sandy shores await me on my isle of dreams,
and I land to a chorus of crashing waves.
Before me lies a boundless, leafy domain,
crowned by a mountain with no peak.
Here is a place without reservations, without limits,
every human failing cannot taint my sacred grotto.
Losing myself here for eternity
would mean sacrificing my humanity.
What is humanity, anyway, but limitations?
I live for that which stretches the limits.
This is a mythical place, where memories come to life,
and everything I value resides in harmony.
I jealously guard my paradise, chaining it to my mind
like only a human could deign to do, in their greed.
I locked it up, seeking to protect my hope
by shielding it from the darkness of humanity.
Sadly, I have lost the key.
~!~ ***** ~!~
Article by Afkables
~!~ Tuning up your computer ~!~
by Wolfie
***********
Not all of us got that new computer we wanted for Christmas, and while your old computer might be slowing down that is almost never a hardware problem. Most of the time either the nuts and bolts of your computer work or it doesn't turn on, meaning what is slowing your computer down can be easily fixed by you. While most speed issues are the result of a virus mucking about on a computer that is not to say viruses are the only thing that slow a computer down. The most common non-viral causes of computer sluggishness are:
Bloatware/PUPs - Many programs installing include offers for toolbars or trial versions of other programs in the Terms & Conditions for their installation because most people spam click "accept/next/I agree/sure you can put that crap on my computer" without reading what they are getting because either they don't care or are elderly and have poor vision. In any case these random programs that get thrown in with the good programs we want are known as PUPs or potentially unwanted programs and they can really slow down a computer. If you have ever had to deal with installing the software to connect to a printer you know what I mean. Usually it includes a toolbar, a photo editing program, and a photo viewing program that will run 24/7 on your computer showing no mercy as it uses 80% of your system resources to sit on your taskbar never to be used.
Registry Errors - Sometimes a virus will change settings on your computer and even after the virus is removed these settings remain. Sometimes a program does not uninstall properly and it leaves bits and pieces of itself lying around on your system redirecting things you may be trying to do to a program that no longer works. Sometimes a program has a sloppy update and it leaves references to old features it no longer preforms, or does in a different way lying around. These are all forms of Registry Errors and they can seriously slow your computer down if you let them build up, or the error is a major one.
Attention ...Hogs - Almost every program installed on a computer thinks it is the miracle answer to your prayers and you would die alone and sad without it. Nearly every program on your computer is not essential to it functioning and as such does not have to run at startup. The logic here is simple: out of sight out of mind. That is why to get the user to notice it programs like to set themselves to run at startup. The printer bloatware I mentioned earlier is also an example of an attention hog because it will almost certainly set itself to run at startup. When you turn on your computer it can take a lot longer to load if it is also loading 3 printer programs and 18 other things you have downloaded since you got your computer. Also it will slow your computer down once it is loaded.
Closet Overflow - This is just my own general term for the muck files that accumulate over time on your computer. Picture your computer's memory as a closet. Every site visited online leaves a cookie, the polite ones have expiration dates that expire after a certain amount of time has passed and get deleted, but the jerks do not and they will stay in that closet until the end of time. When your closet is overflowing with circus fliers, a tent, and perhaps a stray tiger or two it can take a lot longer to find that blue shirt your wanted to wear today.
Step 1, The Easy Button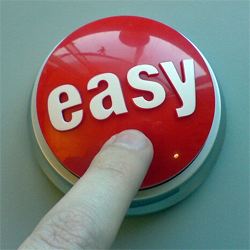 A great free program I love to use is called Comodo System Utilities but I prefer to call it The Easy Button. You can download it by clicking HERE To get started simply click "Scan my computer" and it will perform 3 scans and clean up registry errors, duplicate files, and old cookies fixing two of the 4 issues I talked about in a matter of minutes.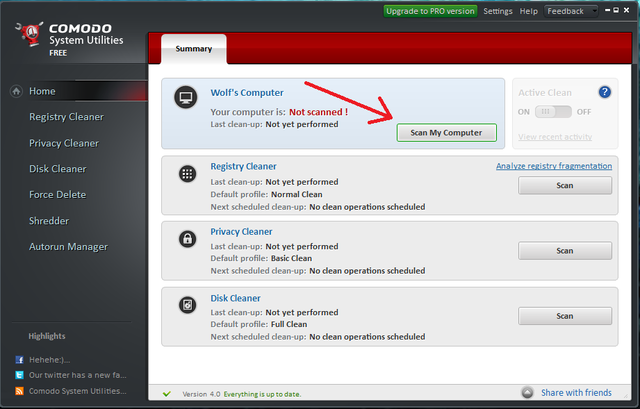 I recommend setting this program to run once a month on a computer to keep it in good running order, or once a week on computers with issues. You can schedule the scans you want on the settings you want by clicking the Registry Cleaner, Privacy Cleaner, or Disk Cleaner tabs on the side. From there I recommend setting each scan on its lowest setting so just click the alarm clock icon next to the top option and select what frequency you want to scan at, then set the time for when you will be online, then you can check "Run scan in silent mode" if you do not wish to be bugged by popups once a month, then click "Save Schedule", then repeat for the other two scans (I like to give them 2 minutes apart so all 3 don't run at once which might slow your computer down) and you are done.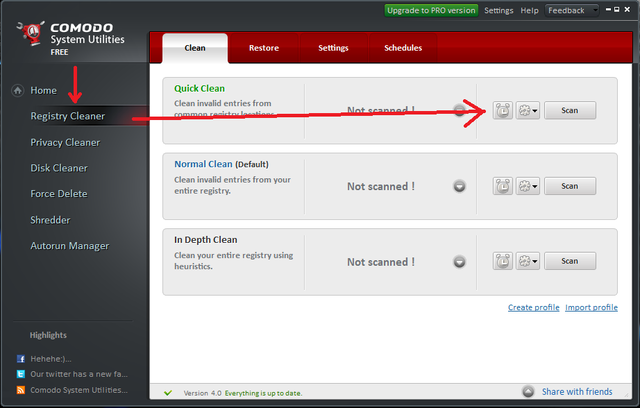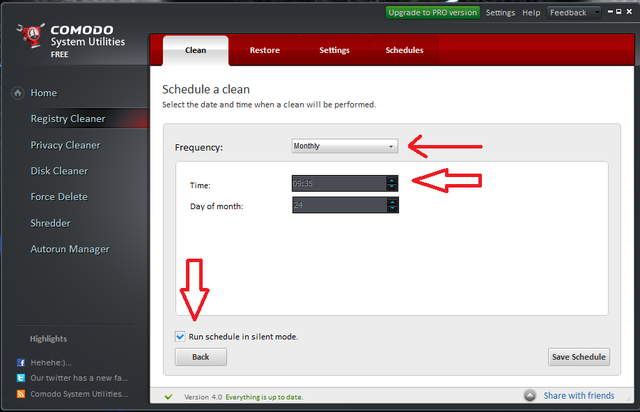 The last thing you can do with this program is click the "AutoRun Manager" tab on the side which will show you all the programs that currently run on your computer at startup. If you see a bunch of random programs that you never use/don't use immediately every time you start your computer you can uncheck them here and they will no longer run at startup. This will drastically decrease the time it takes your computer to turn on and load your desktop. While you are here click the "Settings" gear icon in the upper right corner and make sure "Automatically disable unsigned startup applications" and "Automatically disable infected items" are both checked. This means from now on any program without a recognized license like "Microsoft" for example will not be allowed to set itself to run at startup, and known viruses will also be blocked from running at startup. This program is not an antivirus program and makes no promises to stop viruses from working so you should not think this will keep you safe from viruses but it may stop viruses and will stop unsigned programs from running at startup from now on.
After you have set these settings your computer will now give itself regular health scans and keep your computer's startup process under control (unless you download more useless programs and set them to run at startup) and you should never have to click on this program again and your computer will stay speedy!
Step 2, Improving System Settings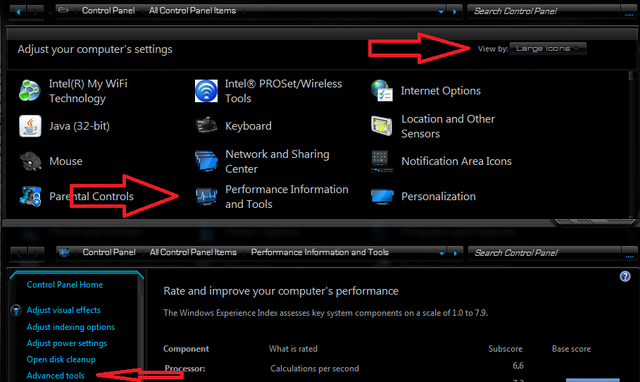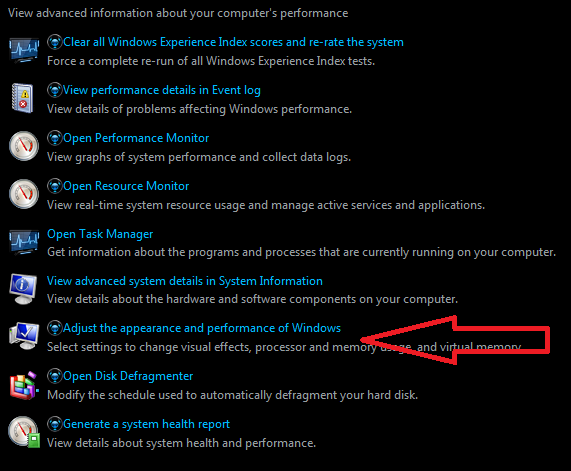 Believe it or not the settings a computer comes standard with from the factory are not one size fits all and you can set your computer to use less resources, change the main priorities that receive resources, and even increase resource limits; all of which can improve your computers performance. To pull up your computer's performance settings open up control panel, and in the upper right hand corner make sure it says "Icons" and not "category view" then scroll down to the P's and select the option with "Performance" in it, then click advanced, then click the option which talks about "Appearance and Performance Settings".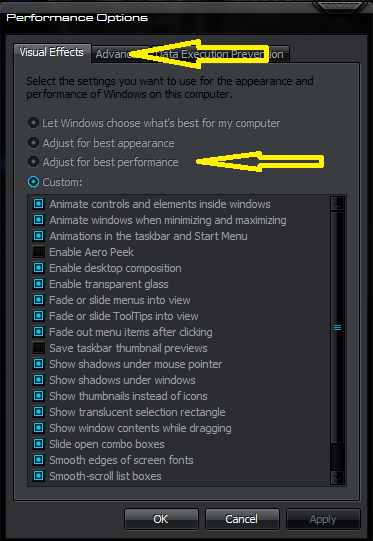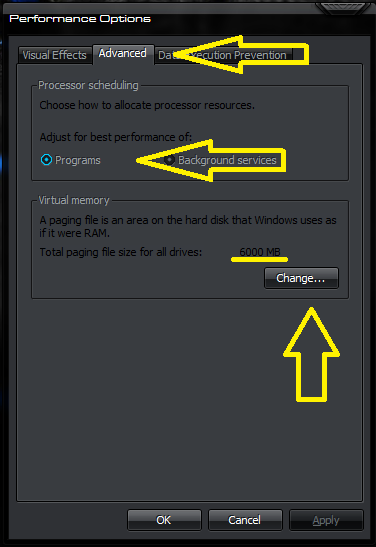 In the first tab which deals with Appearance and Visual Effects you can select "Adjust for best performance" but I recommend against it. Honestly your computer theme graphics use such few resources it won't make any noticeable difference in speed and your theme will look rubbish. HOWEVER, if your computer is running windows 98 every little bit helps; so in the event your computer is ancient you may wish to make use of this setting and milk it for everything it has.
The next tab the "Advanced" or "Performance Settings" tab is the most important. The first setting I would change is the performance setting. After your computer turns on background processes don't really mean much so long as your computer keeps running so setting your computer to run for the best performance of programs can speed things up for you. After that increasing your virtual memory setting can greatly improve processing speeds. As of the end of 2012 5gb of virtual memory is more than enough to comfortably run an operating system. Remember this memory is used from your computers memory so you should not set it to more memory than you have available.
Step 3, Use a decent browser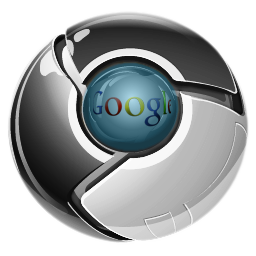 Google Chrome or Firefox pick one. DO NOT USE INTERNET EXPLORER. It is slow, the security is rubbish, and it can't even handle forms of HTML the most basic web programming language of the internet. Using a good browser will greatly improve your internet experience and more efficient use of resources will get you far more bang for your buck.
Speaking of more efficient use of resources once you have either Firefox or Chrome make sure you download either FastestFox or FastestChrome as the program does great things to increase your browsing speeds, like when you idle on a page it automatically loads the first couple links on the page so when you return/finish reading the next page you want is loaded in advance. It also improves searches and is just a wonderful time saving tool.
Step 4, Clean out the closet
The last thing you can do is pull up the control panel again and select "Programs and Features" or "Uninstall a Program" and take a look at all the junk installed on your computer then uninstall the random stuff you don't use anymore or have any clue how it got there in the first place. If you are uncertain what a program does, please for the love of all that is holy and sacred Google search it before you uninstall it.
So now your computer is set up to regularly clean itself, stop random junk from running at startup that slows your computer down, improved performance settings, a great web browser set up to be as fast as possible, and cleaned up some of the clutter. All you have to do now is keep an eye on what you download and listen to your antimalware program and your computer will literally take care of itself.
~!~ ***** ~!~
Article by Wolfie
~!~ ***** ~!~
~!~ Recipes ~!~


~ by Lizbeth ~
**************************
Crunch Top Apple Pie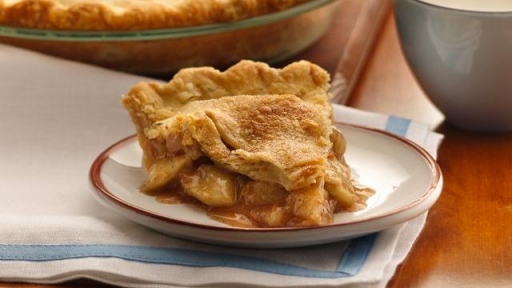 Ingredients
Dough and Filling:
Dough for a double crust 9-inch pie (homemade, frozen, or refrigerated)
3/4 cup sugar
1 tablespoon all-purpose flour
1 teaspoon ground cinnamon
Dash salt
3 1/2 cups peeled, chopped cooking apples
1 (16-ounce) jar applesauce
1 tablespoon lemon juice
2 tablespoons butter, chopped into small pieces
Crunch Topping:
3 tablespoons all-purpose flour
1 tablespoon sugar
Dash salt
1 tablespoon butter, at room temperature
Directions
Preheat oven to 425 degrees F.
Line a 9-inch pie pan with half of dough. Combine sugar, flour, cinnamon, and salt in a bowl. Stir in apples, applesauce, and lemon juice. Spoon apple mixture into pie pan and dot with butter. Cut remaining crust into strips; arrange in a lattice design over top of pie. For crunch topping, combine flour, sugar, and salt in a bowl. Using a fork, cut in butter until mixture is crumbly. Sprinkle over top of crust. Bake for 10 minutes, then reduce heat to 350 degrees F and continue to bake for about 45 minutes, or until crust and topping are golden brown.
~!~ ***** ~!~
Article by LizBeth
~!~ ***** ~!~



Astrological Concepts



Your Horoscope for the Month of January, 2013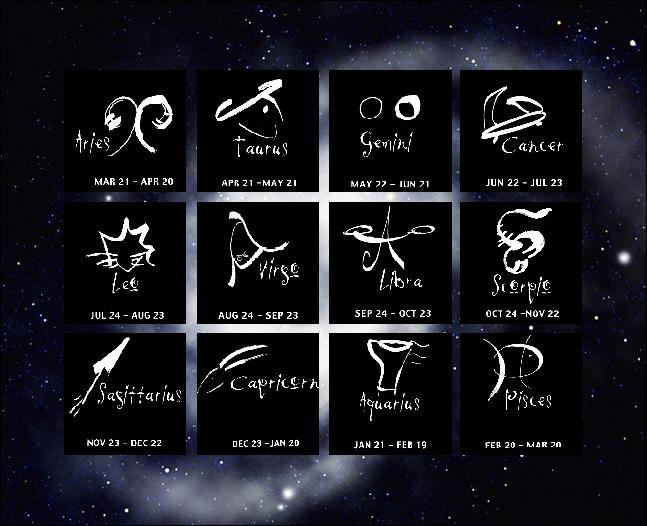 Aries (21 March – 20 April)
Winter has given you the urge to clean house when it comes to work. However, don't let your temper get the best of you this month. Remain calm and think about what's best for your future before making any rash decisions. Seek advice from a close friend or relative if you're not sure what to do.
Taurus (21 April – 21 May)
Don't go against your nature this month. A loved one helps you realize what you want when it comes to your personal life. So, go out and get it. Don't let others stand in your way. However, when it comes to work, it's best to hold back your opinions until you know the whole story.
Gemini (22 May – 22 June)
Your ability to think fast on your feet will come in handy during a social outing this month. Don't let a surprise throw you off guard. Work will keep you busy during the beginning of the month, so you must focus on the task at hand. Your efforts won't go unnoticed. A bonus is on the way.
Cancer (23 June – 23 July)
A family situation will put you to the test this month. Don't let your emotions get the best of you. Stay strong and use your sense of humor to keep loved ones calm. You'll be riding high when it comes to romance. An evening with a good friend will turn out to be much more.
Leo (24 July – 23 August)
Your pride may get you into trouble with a co-worker this month. Don't make the situation worse by trying to take control. In your personal life, romantic efforts finally will pay off. That special someone will show you that he or she really cares. Don't rush in too fast. Take your time.
Virgo (24 August – 23 September)
You'll have to fight your fear of crowds this month as a meeting at work puts you in the spotlight. Your organization and perfectionism will pull you through with flying colors — and a lot of praise. Don't be too hard on yourself after a fight with a loved one.
Libra (24 September – 23 October)
Your ability to be a good listener will be needed this month as a close friend goes through a rough time. Your pleasant nature will help get him or her back on track. Don't let a quarrel with your special someone get you down. Your good nature will bring him or her around.
Scorpio (24 October – 22 November)
Your determination puts you in line for top honors in the workplace. The higher-ups finally recognize all the time and effort you put in. Don't be shy when it comes to romance this month. Even though it's against your nature, let your feelings be known. They'll be reciprocated.
Sagittarius (23 November – 21 December)
Your happy, gregarious nature will be challenged this month as loved ones share a family secret. The news may come as a surprise but don't let your temper flare. Take it in stride. Your optimism pays off when it comes to romance. That special someone finally will make a move.
Capricorn ( 22 December – 20 January)
Now is your chance to get ahead at work. Your boss offers you the opportunity to take a commanding role in the company and you're up to the challenge. Don't let your stubborn side take control when it comes to friends. You'll have a good time, even though you didn't make the plans.
Aquarius (21 January – 19 February)
Your sense of realism does well for you in all areas of your life this month. You won't overreact to a surprise at work, making you a pillar of strength for your co-workers. As for your love life, it's time to take the next step in a relationship. Think about it.
Pisces (20 February – 20 March)
Don't let feelings of self-doubt keep you from reaching a new level of success. Believe in yourself and you can accomplish anything. A realistic look at finances will help you plan for the future. Pay attention to details at work, especially if you deal with numbers. Diet plays a role.
~!~ ***** ~!~
Horoscope Source:
Article by LizBeth
That Sounds Familiar…


by Miss Alaska
**************
RuneScape. It's full of quests, swords, monsters, cabbage and, (for our amusement)…Cultural References! Yes, these cleverly added, real-world references the developers like to hide in dialogue, examine texts, books and general NPC characteristics can be a delightful surprise to budding adventurers like ourselves...
The examine info for the Karamthulhu overlord Summoning monster is "I will call him Squiddy, and he shall be my Squiddy, and he shall be mine." This is a reference to the popular digitally-animated film Finding Nemo. This is, in turn, a reference to the novel The Hobbit.
The combat level of Ferret of Doom is 9001, which a reference to the internet meme originating from Dragonball Z, when Vegeta yells, "It's over 9000!" while smashing his power scouter.

The Bandits camp in the Wilderness has a land bridge with aggressive bandits that say "You shall not pass!", a parody of Gandalf confronting the Balrog within the Mines of Moria, from the Lord of the Rings: The Fellowship of the Ring.
During Recipe for Disaster, after helping the cook of Lumbridge the player is informed by the gypsy that the universe could be destroyed, and the player exclaims, "Not the whole universe! That's where I keep my stuff!" This is a reference to the animated comedy series Futurama, and also a reference to the animated comedy series The Tick, in episode 7.
In the game's Notes Interface, if you create a note named "I am your father" the game will display the note as, "Nooooooooo!"
The examine text of a piglet in Draynor Village reads "I shall call him...Mini-Pig." which refers to the Austin Powers series of films "The Spy who Shagged Me". Doctor Evil says "I shall call him...Mini Me" about his clone.
The potion puzzle in the King's Ransom quest may be based off a similar riddle in the book Harry Potter and the Philosopher's Stone.
The dead adventurer in the first room of the Stronghold of Security dungeon has a hat that resembles Link's from the Legend of Zelda videogame series. The examine text, "He looks a bit past it" is further reference to The Legend of Zelda: A Link to the Past for SNES. "I wonder what's in his bag" might also refer to Link utilizing scores of various weapons and items throughout the games.
During the What Lies Below quest, when speaking to Zaff, the player says "Won't he be disinclined to acquiesce to that request?", a line from Pirates of the Caribbean: The Curse of the Black Pearl.
When you pickpocket the Mark 1 dummy in the Thieves' Guild during the Quest, some cameo references occur. "It's the eye of the kyatt, it's the will of the heist." is a reference to the song "Eye of the Tiger". There is also a reference to Willy Wonka and the Chocolate Factory.
The dance emote wearing Flared trousers echoes a dance move made famous by John Travolta in the movie Saturday Night Fever. The examine info of Flared Trousers is 'These'll help me stay alive', a reference to the song 'Staying Alive' from the movie.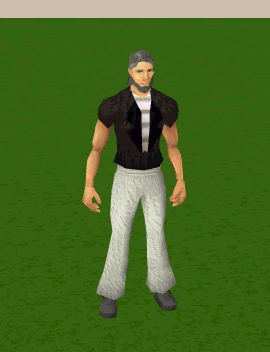 The clocks above the bank in Catherby, the Clock Tower south of East Ardougne, and East Ardougne appear to have stopped at 10:04, which is a reference to the 1985 movie Back to the Future, in which the clock above the courthouse stopped at that exact time. This reference was confirmed by Mod Srowley.
In the cutscene in the quest Meeting History, where humans first come out of a portal, examine the portal. The examine is, 'There's a cake in here, apparently'.
Pulling the lever near the Party Chest will give a player the option of summoning the dancing knights for 500 coins. The knights will dance on the tabletop, singing a song in parody of a similar scene in Monty Python and the Holy Grail.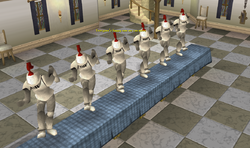 So if you haven't already been messing with phrases in the notes tab, give it a shot for that classic Star Wars quote
Reference: I used the helpful fansite, RuneScape Wikia, as reference to these references. I also sourced the images for the article from the same website.
~!~ ***** ~!~
Article by Miss Alaska
~!~ ***** ~!~
New Year's Facts and Traditions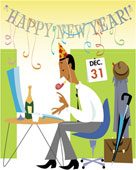 - The first New Year's Eve ball drop in Times Square happened in 1907.

- The Jewish New Year is called Rosh Hoshana.

- Auld Lang Syne means time gone by.

- The largest annual New Year's Eve celebrations happens in Sydney Australia.

- More than 80,000 fireworks are set off from the Sydney Harbour Bridge.

- Hogmanay is the celebration of the New Year's Scottish style.

- The centenary clock is lowered at 23:59:48 on New Years Eve in Madrid Spain.

- Tournament of Roses it the most popular New Year's Day parade.

- Pasadena's Valley hunt clubs first Tournament of Rose's parade took place in 1890.

- New York's Waterford crystal ball weighs 1,070 pounds.

- In Flagstaff Arizona a pine cone dropped on New Year's Eve.

- Bangor Maine drops a purple beach ball decorated with Christmas lights.

- In Seattle, the New Years countdown done with an elevator.

- The Chinese New Year is known as the Lunar New Year or the Spring Festival.

- Apples and Honey are eaten to symbolize a sweet new year in Rosh Hashanah.

- Thailand celebrates from April 13 to 15 by throwing water.

- In the ancient Roman calendar the New Year began on March 1st.

- The first New Year holiday observed was celebrated in Babylon about 4000 years ago.

- The baby was first used to symbolize the New Year in Greece around 600 BC.

- In Colombia, Cuba and Puerto Rico families stuff a life-size male doll with things that have bad memories or sadness associated with them, and then dress it up in old clothes from each family member. At the stroke of midnight, 'Mr. Old Year' is set on fire.

- In Spain people eat 12 grapes as the clock strikes midnight (one each time the clock chimes) on New Year's Eve.

- In Japan, Buddhist temple bells are rung 108 times at midnight.

- In Brazil people wear white clothes on New Year's Eve to bring good luck and peace for the year to follow.

- In Greece children leave their shoes by the fireside on New Year's Day in hopes that Saint Basil will come and fill their shoes with gifts.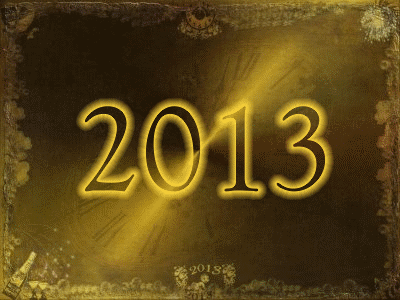 Here's to another year filled with love and laughter and may the bond we share stay forever strong. Cheers Clan Quest!
~!~ ***** ~!~
Credits:
Article by LizBeth