UptheIrons05
Clan Quest
Positions

Guilds
Joined Clan
2nd of June 2011
Gaming Info
RuneScape
Username
Join date
Quest points

UptheIrons05
27th of June 2005
421
Pretty Much Everything Else
Username


Pallando
Personal Info
Name
Benjamin
Age
24
Sex
Male
Occupation
Bankstander
Location
The North
Signatures
Editor Status
This user has a sandbox here
UptheIrons05 is a long-standing member of Clan Quest, having first appeared as a guest, sometime before April 2011. The exact date is now lost to the sands of time. He officially joined the clan on the 2nd of June 2011, thanks to sponsorship by Sir MacSimus.
RuneScape
UptheIrons05 joined RuneScape on the 27th of June 2005, in an I.T class at primary school. Clan Quest Fun Fact: the 27th of January 2005 was also the release date of 'Recruitment Drive'. Little is known about his formative years on the game, other than that his upgrade to P2P started sometime before the Easter 2006 event. This membership has been without pause since then, and he is very happy about his grandfathered prices.
From 2005 to 2009, UptheIrons05 played RuneScape almost exclusively on the shared computer at home, making progress very slow. It was partially because of this time limitation on gameplay that led to his heavy focus on quests. Unfortunately in mid-2009, the home computer stopped being able to run RuneScape, and so began the first great disappearance.
It was not until early-to-mid-2010, after receiving his first laptop, that UptheIrons05 resumed his playing career. After a failed attempt to start his own clan (2 members), he searched the forums for a suitable one to join. It was whilst looking through the forums that he found a young but established Clan Quest and immediately joined as a guest. For unknown reasons that would continue to shake the clan to it's core for over a decade, he was accepted into the fold.
On the 1st of October 2021, UptheIrons05 officially became the rival of Choto 3000 (the bronzed), by customising his appearance to full iron.
Milestones & Dates (If Known)
99s in Order
Woodcutting
Firemaking
Thieving - 19th of February 2019
Constitution
Slayer
Attack
Strength
Defence
Archaeology - 6th of November 2020
Prayer - 16th of November 2020
Mining - 6th of January 2021
Smithing - 7th of January 2021
Magic - 26th of January 2021
Herblore - 19th of February 2021
Hunter - 20th of February 2021
Divination - 21th of February 2021
Farming - 12th of April 2021
Ranged - 22nd of April 2021
Cooking - 27th of April 2021
Summoning - 3rd of May 2021
Dungeoneering - 5th of May 2021
Agility - 8th of May 2021
Fletching - 11th of May 2021
Fishing - 18th of May 2021
Crafting - 4th of June 2021
Construction - 4th of June 2021
Invention - 4th of June 2021
Runecrafting - 4th of June 2021

120s
Archaeology - 8th of August 2021
Invention - 19th of September 2021
Capes
Quest Cape - First Claimed on the 28th of October 2018
Max Cape - First Claimed on the 4th of June 2021

RuneScape Favourites
Clan - Clan Quest
Quest - You Are It (on day of release)
Quest Series - Dorgeshuun
Skill - Archaeology
Old Runescape Memory - Playing pest control with a granite maul or chasing Zezima through the Barbarian Village

IRL
Random Facts
Drinks >4 cups of tea (preferably Yorkshire/Yorkshire Gold) every day, and has done for ~18 years. This comes to about 26,000 cups of tea and counting.
Has a Master's Degree in Astrophysics.
日本語上手
Favourite Topics of Conversation
Food
Tea
Lord of the Rings
Japan
Food
Beer
One Piece
Food
Gallery


Part 1 of Denniz and UptheIrons05's RNG entanglement


Part 2 of Denniz and UptheIrons05's RNG entanglement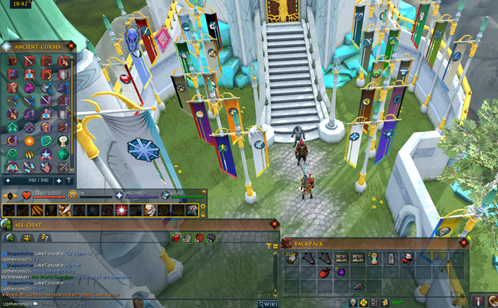 Special thanks to LukeTotodile and Blcknexaken for celebrating my entrance to the Max Guild!