Clan Auction by Pacrat, Choto and Santa
I am happy to present our Christmas 2021 clan auction!
This is a past time that allows clan members the chance to buy other members and use their unique skills to their own advantage for 1 hour. Members being auctioned will be able to make a little cash and help Clan Quest fund prizes for other activities.

The event ran for over an hour, with participants from Clan Quest and other clans.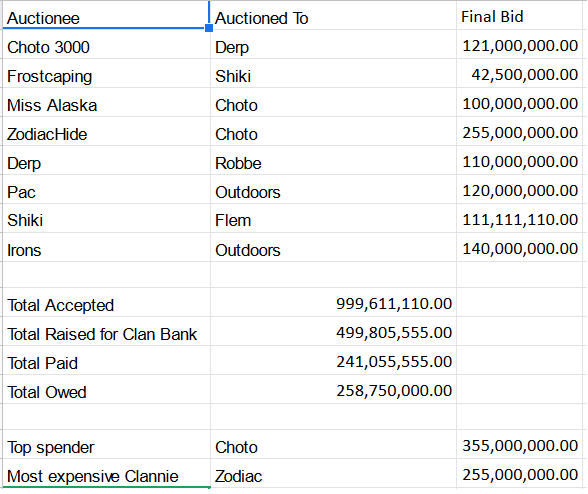 charity: water
This year we are raising money for charity: water. You can donate directly through our campaign page. If you want to show your appreciation to our streamers, make sure you donate during their streams, as they'll be keeping an eye on incoming donations and reading out donation messages! We also have goals and incentives to hit during the month of December, so keep an eye out for those as well.
charity: water is a nonprofit organization bringing clean and safe drinking water to people in developing countries. 100% of donations made to charity: water go straight to the sustainable water projects. The work is incredibly important as nearly 1 in 10 people worldwide still do not have access to reliable sources of clean water. Access to clean water improves health, increases access to food, grows local economies, and helps kids spend more time in school. Since 2016, charity: water has funded almost 79,136 water projects (as of October 2021) across 29 countries, serving more than 13.2 million people. We at Clan Quest are proud to help raise money for this amazing cause, and if you like what we're doing with this Advent Calendar, please consider contributing today. Every donation helps.